AVIANOR, AIRBUS, BOMBARDIER, PRATT
&

WHITNEY UNITE WITH THE CITY OF MIRABEL
Avianor, Airbus, Bombardier, Pratt & Whitney are joining forces with the City of Mirabel to offer the Aviation Connection Company's Aeronautics Training Program, free of charge to all students of Mirabel High School.
If Mayor Jean Bouchard thinks big for his city, he thinks big for the young people of Mirabel. Aviation Connection's Aviation Training Program is in line with its vision of making Mirabel an economic leader. Mirabel is an important component of the aeronautical hub of greater Montreal. A good percentage of the citizens of Mirabel depend on the aviation industry and its ecosystem, especially with the entry into the portrait of Airbus, the second largest manufacturer of commercial aircraft in the world.
Important leaders in the aviation industry have also chosen Mirabel for the undeniable advantages it offers. In addition to Airbus, Mirabel has several flagships on its territory, such as Bell Helicopter Textron, Pratt & Whitney, Bombardier, Messier-Dowty, Technicolor, and many others which allow it to pursue a balanced development while retaining its cachet, its charm and tranquility.
EXCEPTIONAL ENVIRONMENT FOR HIGH SCHOOL YOUNG PEOPLE
Mirabel High School offers an exceptional environment in which young people from Secondary 1 to 5 can flourish in a healthy way thanks to a team of young and dynamic teachers.
Ms. Nathalie Flamand, Director of Mirabel High School is determined to give her students all the tools to promote their success by starting with stimulating extracurricular activities that meet the needs of students who want to surpass themselves. A science and mathematics teacher, Ms. Flamand recognizes the benefits of the ATP which stimulates students in the learning of STEM (Science, Technology, Engineering and Mathematics). "High school must be a beautiful and unforgettable experience," says Ms. Flamand.
Seven flight simulators will be installed in the school from December. Students will be able to familiarize themselves with simulator practice and learn about the Program before registering to participate once a week, either for lunch or in the evening, depending on the choices offered to students when registering.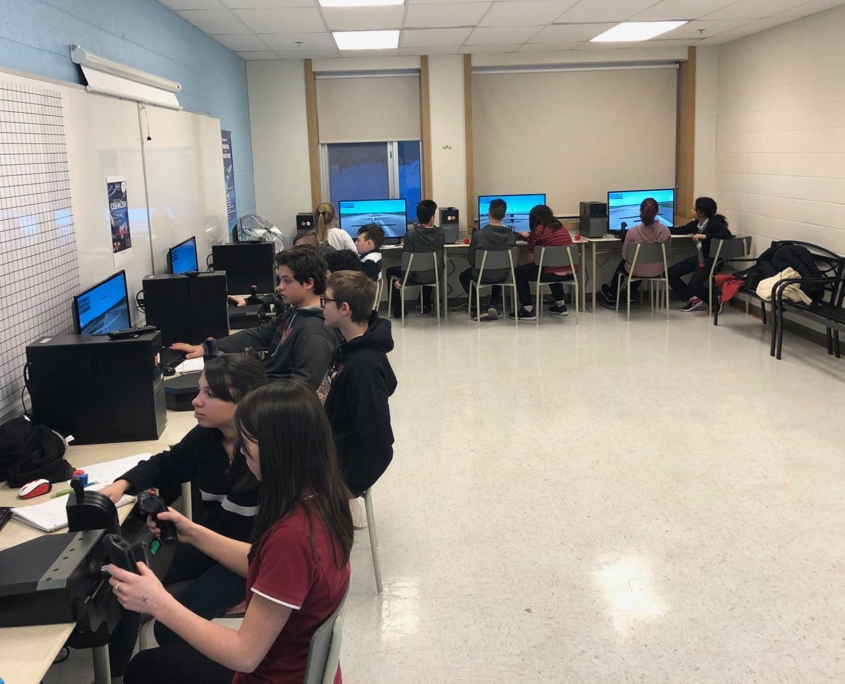 THE ADVENTURE BEGINS FOR THE YOUNG PEOPLE OF MIRABEL!